Join Anne-Laure Broissia and Dr. John Burkhardt for a virtual discussion on how behavioral science can positively impact your customer's experience.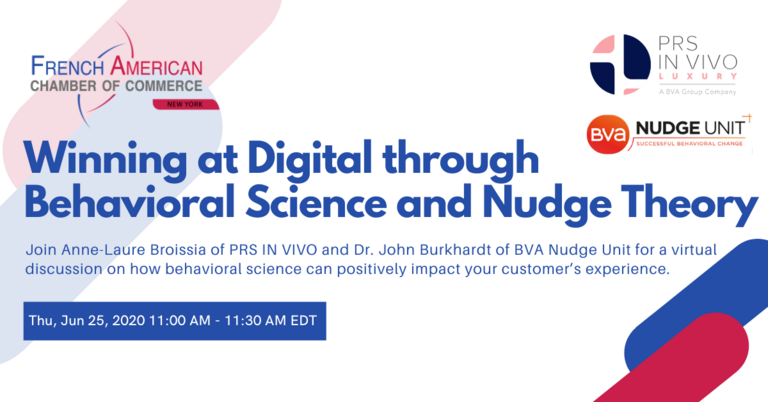 Nowadays, understanding how to navigate and activate your customers or clients effectively all comes down to the digital strategy you have in place. We will be joined by Anne-Laure de Broissia of PRS In VIVO and Dr. John Burkhardt of BVA Nudge Unit, who will pinpoint exactly how behavioral science can positively impact your customer's experience.
During this webinar, we will dissect the current and changing trends in digital behavior, understand what it means to apply the Nudge Theory to your business, and hear what the experts have to say are the best practices going forward.
Meet the speakers:
Anne-Laure de Broissia, Senior Vice President, Head of PRS IN VIVO Luxury Practice, leads the global Luxury practice at PRS IN VIVO. She has 17 years of client experience & project management at PRS IN VIVO, having worked both in the Paris & New York offices. Her background is in Behavioral & Happiness Sciences, leveraged to accompany brands in understanding the authentic behaviors of their customers and delivering more emotional experiences.
Dr. John Burkhardt is a neuroscientist and behavioral scientist, specializing in competitive behavior change. John is a senior advisor at BVA Nudge Unit, a global consultancy and pioneer in applying behavioral science to support organizations, governments, and NGOs in creating successful behavioral change. He is the founder of Capita Neuro Solutions, a thinktank for the application of applied neuroscience, behavioral economics, and data analytics in the commercial space, and an adjunct faculty member at Columbia University's Enterprise Risk Management program, where he lectures on behavioral economics.
This webinar is organized by the FACC NYC