As the market swings wildly from moment to moment, how is your organization managing it's risk when it comes to FX?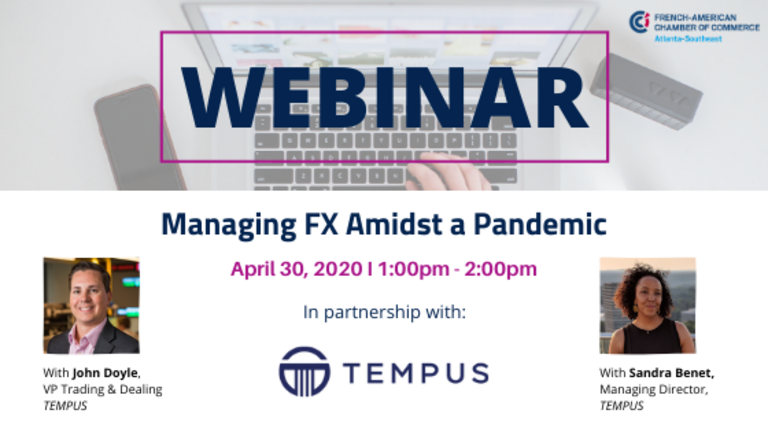 The market is swinging wildly—how will you manage risk when it comes to FX?
How will this play out for your organization moving forward? How can you safeguard your business for volatile exchange rate movements?
Let our experts from Tempus help your business navigate the volatility in this time of crisis and better understand what's really happening.
Join us for a FREE Webinar with Tempus on
Thursday, April 30
at 1pm EDT
Listen as our experts walk you through the current economic state and how to best manage your risk and strategically budget for the year ahead—in a way that best fits your organization's risk tolerance and protects your profit margins from adverse market moves.
This presentation will be followed by a Q&A session.
Please email us your questions in advance at
julie(@)facc-atlanta.com
MEET OUR SPEAKERS:
John Doyle, VP Trading & Dealing
John Robert Doyle II is currently the Vice President of Dealing and Trading at Tempus.  With more than ten years of market experience and Bloomberg award-winning forecasting, he is frequently featured in respected business media such as Bloomberg News, Reuters, the Financial Times, the Wall Street Journal, CNBC's Closing Bell and Yahoo Finance's Midday Movers.  He holds a BA in Government and Economics and a Master's degree in Public Administration from American University in Washington, DC.
Sandra Benet, Managing Director
Sandra Benet is a Managing Director with Tempus, Inc., where she is responsible for introducing new business initiatives, managing an active client portfolio and growing a team of junior FX sales associates. Prior to this role, she served in various Sales and Business Development roles and is consistently recognized as top revenue contributor in her department. Originally from France, Sandra earned her degree in Marketing with a concentration in Business at the University of the District of Columbia and currently resides in the DC metro area.