With the COVID-19 health crisis disrupting communities all around the world, employers are facing unprecedented challenges, whether it is travel bans, closed borders, shut consulates or employees whose work authorizations are expiring but cannot safely return home, while they are protecting their workforces and maintaining business continuity!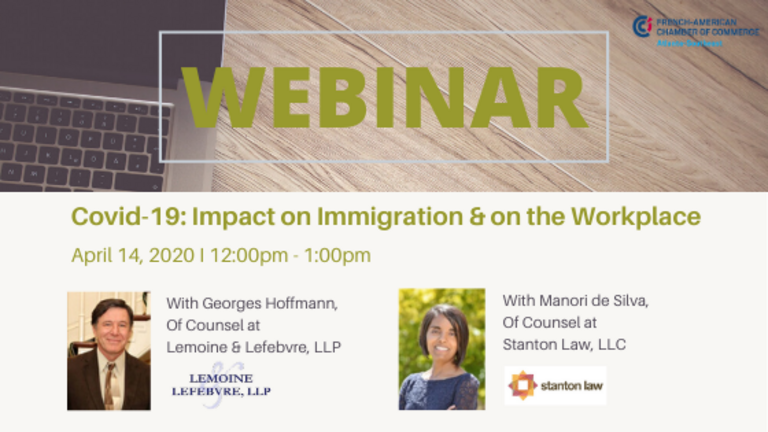 Join the FACC-Atlanta for a free webinar on
Tuesday, April 14
12:00pm - 1:00pm

Georges Hoffmann and Manori de Silva will share with us major immigration and
HR developments that impact a mobile workforce and how to navigate
through the current environment.
Georges Hoffmann will update us on the U.S. Government's rapidly changing immigration policies in response to COVID-19, including
What happens with U.S. Consulates closure?
What happens if my visa expires and I am still in the U.S.?
Can I extend my ESTA after the 90 days?
I was laid off! What happens now?
What is this new Inadmissibility of Public Charge Grounds? Can I apply for benefits?
Manori de Silva will explain how the sick leave provisions of the new Families First Coronavirus Response Act affects your company, including:
What do I have to do if one of my employees gets sick? What if it's a contractor?
What if my employee has to take care of his mother who has been advised to quarantine or isolation?
What's the process if I have to close temporarily my business? What's the impact for my employees?
Meet our Speakers
Georges is Of Counsel at Lemoine & Lefebvre, LLP. Mr. Hoffmann got this law degree from the Universite Catholique de Louvain, Belgium (1979) and obtained a Master in Comparative Law degree from The George Washington University – National Law Center, Washington, D.C. (1981). He practiced law at the bar of Brussels, Belgium and is admitted to the Bar of Georgia (since 1985); the U.S. Supreme Court (since 1989) and the U.S. Court of International Trade (since 1989). He is a member of the State Bar of Georgia, International Section (Vice Chairman 1995, Chairman 1996) and a member of the American Immigration Lawyers Association. Click here for the complete bio.
Manori is Of Counsel at Stanton Law, LLC. She uses her dual U.K.-U.S. qualification to advise European companies on the legal aspects of doing business in the U.S. Throughout her legal career, Manori has built strong relationships with her clients through her genuine interest in their long-term goals. Manori de Silva is qualified as an attorney in England (solicitor) and the United States (Georgia and California). She has spent over a decade assisting businesses and executives with a variety of employment and commercial matters. Click here for the complete bio.


These presentations will be followed by a Q&A session.

Please email us your questions in advance at
julie(@)facc-atlanta.com.

This webinar is free but registration is required!