Volunteer with us and give back to the community!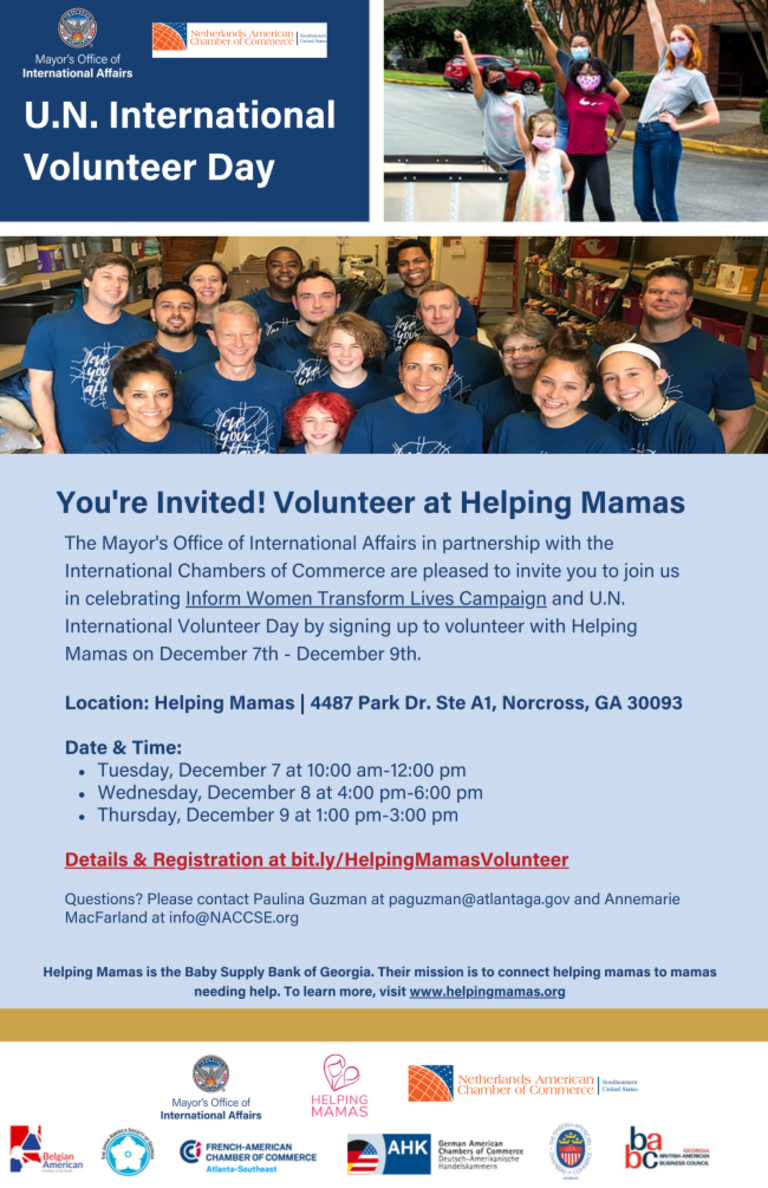 As part of the Inform Women Transform Lives Campaign, the Mayor's Office of International Affairs in partnership with the International Chambers of Commerce is pleased to invite you to join us in celebrating U.N. International Volunteer Day by signing up to volunteer with Helping Mamas on December 7th - December 9th.

As part of the Inform Women Transform Lives Campaign, we are seeking to highlight local organizations that provide services for women and underserved communities and connect these organizations with Atlanta's international community. Helping Mamas provides baby supplies, furniture and equipment to non-profits serving low-income women and children. When mamas and babies have their basic needs met, they are able to benefit from the services provided by traditional non-profits: shelter from domestic violence, parenting education, job training and coaching, financial coaching, support services for medically fragile children and their families.

International Volunteer Week at Helping Mamas will take place from Tuesday, December 7th—Thursday, December 9th at various times and is located at 4487 Park Dr, Norcross, GA 30093.
Volunteers will help process donations by sorting, packing, inventorying, and shelving essential items and assisting with other warehouse needs. Due to COVID-19 protocols, capacity is limited to 15 people.

For questions, please contact Paulina Guzman at paguzman(@)atlantaga.gov or 470-303-9589 or Annemarie MacFarland at info(@)NACCSE.org and 404-913-3115.