A growing number of manufacturers are treating "sustainability" as an important objective in their strategy and operations to increase growth and global competitiveness. But sustainable manufacturing is often too narrowly defined as simply manufacturing products in ways that minimize negative environmental impacts while conserving energy and natural resources. By focusing on how international manufacturing companies in Georgia are implementing sustainability goals, such as the 17 Sustainable Development Goals (SDGs) set by the United Nations, this event will broaden the traditional definition of sustainability to include enhancing the wellbeing of employees and the communities in which companies operate.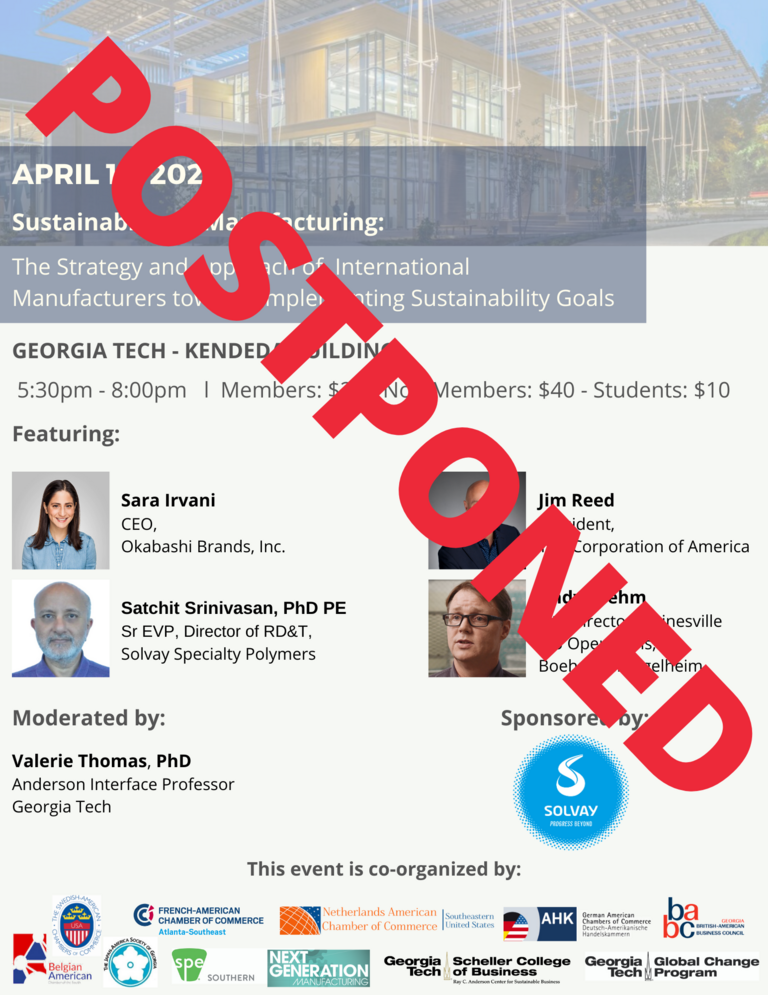 As a membership organization, the French-American Chamber of Commerce-Atlanta takes the health and safety of its members and community very seriously.
Due to the uncertainty surrounding the progression and community transmission of COVID-19, and in concertation with our partners, we have made the decision to postpone our Sustainability & Manufacturing event until further notice.
We look forward to announcing a new date and hope you will be able to join us.
PROGRAM:
4:30-5:30 - Optional tour of Georgia Tech Kendeda Building, the most environmentally advanced education and research building ever constructed in the Southeast (registration required)
5:30-6:00 - Networking reception
6:00-6:15 - Welcome
6:15-7:30 - Panel discussion
7:30-8:00 - Q&A
PANEL:
Sara Irvani, CEO, Okabashi Brands, Inc.
Jim Reed, President, YKK Corporation of America
Satchit Srinivasan, PhD PE, Sr EVP, Director of Research, Development & Technology, Solvay Specialty Polymers
Andy Brehm, Site Director, Gainesville Bio Operations, Boehringer Ingelheim Animal Health
Moderated by Valerie Thomas, Anderson-Interface Professor of Natural Systems in the H. Milton School of Industrial and Systems Engineering at Georgia Tech
Partnering organizations:
French, German, Belgian, Netherlands and Swedish American Chambers of Commerce, the British-American Business Council, the Japan-America Society of Georgia, the Women's Series, Global Change Program and the Ray C. Anderson Center for Sustainable Business, Georgia Institute of Technology, Next Generation Manufacturing, Society of Plastic Engineers, Global Atlanta.