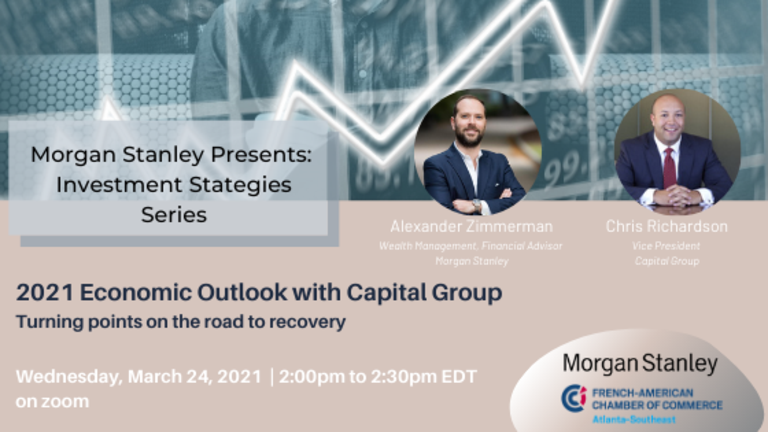 We may one day look back at 2021 as a major turning point for the global economy, public health, politics, and how we live and work in the digital age.
How quickly will the vaccine lead to economic recovery? Who will be the Covid winners and losers? Do companies with strong online business models have an advantage? What will be the impact of a potential Covid resurgence on the markets?
As the world is turning the corner toward recovery, join Alex Zimmerman, Financial Advisor at Morgan Stanley and Member of the FACC-Atlanta Board of Directors, and Chris Richardson, Senior Vice President, Sales Development Manager, at Capital Group to get some insights on the key economic takeaways from Capital Group's 2021 Outlook.
Meet Our speakers
Alexander Zimmerman, Financial Advisor at Morgan Stanley
advisor.morganstanley.com/alexander.zimmerman
Drawing on over 12 years of industry experience, Alexander creates tailored wealth management solutions for high net worth clients across the globe. Sensitive to cultural nuances, he brings a depth of knowledge and perspective to the modern complexities of cross-border wealth management, working predominantly with clients across the United States, Europe and West Africa.
Alexander began his career as an Energy Derivative Broker in London and New York. As the regulatory environment changed, he pursued building a boutique alternative investment brokerage centered on managed futures and commodity futures trading, before transitioning into advising individuals, startups and family-owned businesses at Morgan Stanley. Born and raised in Paris, France, Alexander graduated from the Sorbonne with Honors and a Masters in Finance. He speaks five languages – including French, English and Russian fluently – works closely with the expatriate community, and is well-versed in international estate planning strategies.
Studious in his approach and thoughtful in his execution, Alexander's objective is that your money outlives you, while helping provide you the financial independence to live life on your terms.
Chris Richardson, CIMAⓇ, Senior Vice President, Sales Development Manager, at Capital Group
Chris is a wholesaler at Capital Group, home of American Funds, covering the Atlanta metro area. He has 17 years of investment industry experience and has been with Capital Group for 9 years. Prior to joining Capital Group, Chris worked at Putnam Investments in various roles, including most recently as a wholesaler. He holds a bachelor's degree in business finance and management from the University of Massachusetts, Lowell. Chris is based in Atlanta.
About Capital Group
Since 1931, Capital Group has taken a long-term approach that's consistent with the long-term goals of their investors.
Each of their funds is designed to pursue objectives that help investors meet their real-life needs. Their investment philosophy is based on doing what they believe is right for investors. In their efforts to help protect the value of investments, they pay close attention to risk. They base their decisions on a long-term perspective because they believe it is the best way to achieve superior long-term investment results.