IN FRENCH Rejoignez le Festival de la Francophonie d'Atlanta pour discuter des compétences linguistiques et interculturelles en contexte professionnel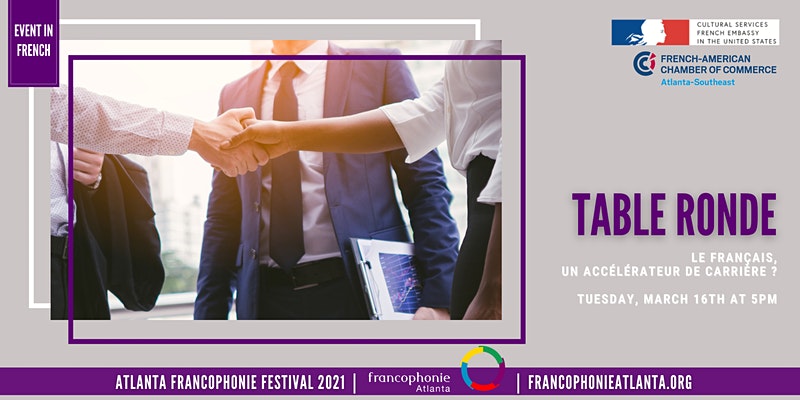 Dans un monde où 70% de la population ne parle pas anglais, la maitrise d'une ou plusieurs langues étrangères constitue un avantage comparatif pour l'accès à des emplois de plus en plus concurrentiels au plan international.
Dans ce contexte, le français bénéficie de sérieux atouts sur le marché du travail, ici aux USA. Savez vous par exemple que le français est la troisième langue étrangère la plus demandée parmi les employeurs américains ? (rapport ACTFL 2019)
Au-delà des seules compétences linguistiques, ce sont l'ensemble des codes socio-culturels portés par une langue que les entreprises recherchent afin de pouvoir appréhender au mieux leur intégration et développement dans un marché international.
Rejoignez-nous pour découvrir diffèrent parcours professionnels éclairants dont le français est le dénominateur commun.
Que vous soyez élève, étudiant, professionnel ou en recherche d'emploi, l'objectif de cette table ronde est de vous donner envie de continuer ou de commencer l'apprentissage du français en démontrant qu'il peut être un accélérateur au service de votre carrière.
Phil Bolton sera le modérateur des échanges du panel regroupant des professionnels anglophones, issus du monde diplomatique, culturel et des affaires. La discussion sera ensuite ouverte aux participants et vous pourrez partager vos expériences.
En ce mois de la Francophonie, les échanges se dérouleront en français.
This event is part of the 2021 Atlanta Francophonie Festival. More info about this year's edition HERE.