How alternative payment methods have impacted our financial dealings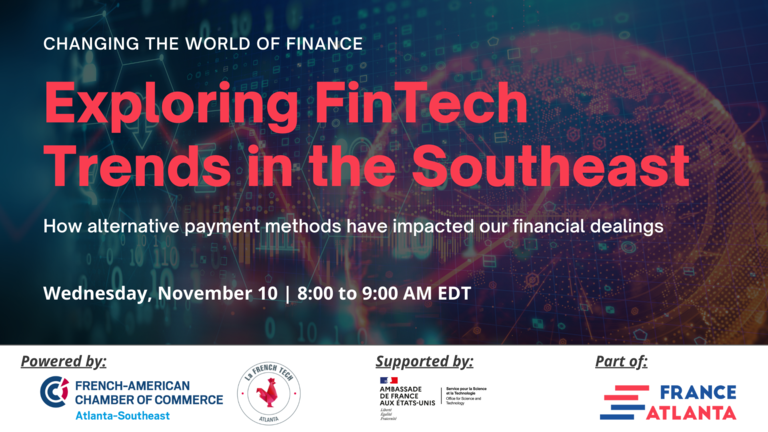 NEW DATE - Wednesday, Nov. 10, 8 to 9am EDT
"Georgia is the epicenter of FinTech, with 70% of all U.S. transactions handled by payment processing firms located in Georgia. The state's "Transaction Alley" is comprised of 170+ FinTech companies, which generate an annual revenue of over $72 billion.
As one industry veteran notes, "[Given payment complexity], if you don't engage Georgia you're going to hit a wall on the last mile of execution." (Source,Georgia Department of Economic Development)
The FinTech industry is one of Georgia's most important and fastest-growing sectors. In fact, Georgia's FinTech ecosystem ranks 3rd in the nation (behind only New-York and California), with the Top 20 Georgia based FinTech companies generating annual revenue of more than $72 billion.
Metro Atlanta's FinTech sector, which now rivals that of London, New York and Zurich, is home to global giants like NCR, Worldpay, Equifax, Firsev, First Data and Global Payments, as well as Atlanta's industry disruptors like Kabbage, BitPay, Paymetric, GreenSky, ControlScan, GroundFloor and Cardlytics.
On Wednesday, November 10, we will have the pleasure to welcome industry experts who will discuss Alternative Payment Methods.
Alternative Payments refers to payment methods that are used as an alternative to cash or traditional debit/credit card payments. Most alternative payment methods address a domestic economy or have been specifically developed for electronic commerce.
The number of alternative payments has grown exponentially in the last few years due to the need for billing solutions on the Internet. You've certainly heard about digital wallet, money orders, APM, cashless or frictionless payments, cryptocurrencies, Bitcoins, ... but how familiar are you with these new payment methods? How is it secure? Should my business consider it as an alternative to cas or debit/credit cards? And how the Atlanta FinTech Ecosystem is leading the way in developing these alternative payment methods?
This FinTech panel discussion will be a HYBRID event, with a very LIMITED number of seats if your would like to attend this event in-person.
If you are not able to join us in-person or if the in-person event is sold out, you will have the opportunity to join us virtually.
For those you will be attending in-person, please make sure to join us at 7:30am EDT for a light breakfast networking session.
For those joining us virtually, the event will start at 8am EDT.
Meet our speakers:
Co-founder and US CEO at sunday
CPO at BAKKT
Partner and chair of AGG's Technology practice at Arnall Golden Gregory, LLC
CEO & Managing Partner at GGorvett Consulting LLC and and Secretary at La French Tech Atlanta
This panel discussion will be moderated by, Trevor Williams
Managing Editor at Global Atlanta