Join us on Monday, December 14, 2020 at 12:00-1:00pm EST/18H-19H Paris Time.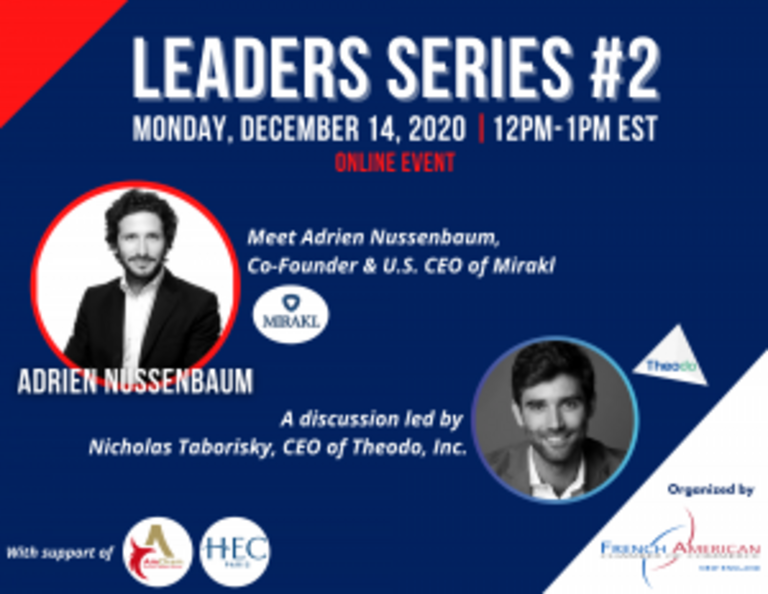 On November 29, we had the pleasure to welcome Adrien Nussenbaum as our Keynote Speaker for our France-Atlanta Event "Transatlantic Tech Perspectives: Transformative French Tech communities in the Southeast". If you missed it, watch the replay HERE.
Let's continue the conversation with Adrien and join the FACCNE on December 14.
__________________________________________________
In November, FACCNE launched its new Leaders Series to meet with C-level Executives whose companies, startups, and initiatives are boosting the American market. This program is free and open to all.
For the first edition, we had the pleasure to interview Julie Chapon & Lucie Basch, Co-Founders of Yuka and Too Good To Go, 2 world-famous French applications (40 million downloads between them) launched on the American market. It is our honor to announce Leaders Series #2, a conversation with Adrien Nussenbaum, CEO of Mirakl Inc., the global leader in online marketplace solutions. Join us on Monday, December 14, 2020 at 12:00-1:00pm EST/18H-19H Paris Time.
Mirakl is the only marketplace SaaS platform that empowers both B2B and B2C organizations to launch and grow an enterprise marketplace at scale. It has a wide range of B2B marketplace functions, from payment services to supply-chain solutions. Mirakl has caught the attention of top venture capital and technology reviews, such as TechCrunch and Forbes.
The company has received a variety of awards and public praise. The French unicorn, which is among the NEXT40 companies nominated by President Emmanuel Macron, won a FACCNE 2019 FAB award, and Adrien Nussenbaum was named a finalist for the Entrepreneur Of The Year® 2019 New England Awards program.
In September 2020, Mirakl raised $300 million in a funding round led by private equity firm Permira valuing the e-commerce startup at $1.5 billion.
Mirakl is a French cloud-based e-commerce software company headquartered in Paris, France. It provides online marketplace software to retailers, manufacturers and wholesalers. Mirakl Inc. has been named a French Unicorn. Since 2012, Mirakl has helped more than 300 companies transform their business to lead in the changing B2B and B2C commerce landscape. Their vision of the future is not monopolized by digital giants, but one where organizations that have pioneered their industries have been empowered to compete and continue to lead in an increasingly digital world. Mirakl provides the unrivaled expertise, the proven technology backbone, and the partner network needed to shift from a traditional pipeline business model to a platform business model – this is the future of commerce.
Adrien Nussenbaum is co-founder and U.S. CEO of Mirakl, the global leader in online marketplace solutions. Since graduating from HEC Paris in 2001, Adrien's career has been focused on innovation, entrepreneurship and disruption. His background in corporate finance and management consulting has allowed him to support top Fortune 1000 companies in their strategic growth and transformation initiatives, including creating and leading FNAC's marketplace from 2008 to 2011. A serial digital entrepreneur, Adrien has always been driven by the desire to invent tomorrow's economy: All Instant, a NY based Instant Messaging platform sold in 2003 and SplitGames an online video games marketplace sold to FNAC in 2008. Along with co-founder Philippe Corrot, Adrien has built and led winning teams across the globe, created hundreds of jobs, and generated billions in sales for customers. Outside of the office, Adrien enjoys spending time with his wife and two daughters exploring their new home town of Cambridge, MA. But don't think you'll catch him trading bouillabaisse for New England clam chowder any time soon.
The moderator for this Leaders Series will be Nicholas Taborisky, CEO of Theodo. Before joining Theodo in Paris in 2014 Nicholas had been involved in several entrepreneurial experiences. He then moved to London to run the Theodo UK team, and to NYC in 2018 to launch and expand Theodo in the US. Theodo is an A-team of software engineers building custom software for companies with complex IT contexts. They leverage cloud-native technologies and Agile methodologies to deliver tech products in weeks, not months.