How are Corporate Diversity, Equity and Inclusion Policies Addressed in the U.S. vs. in France?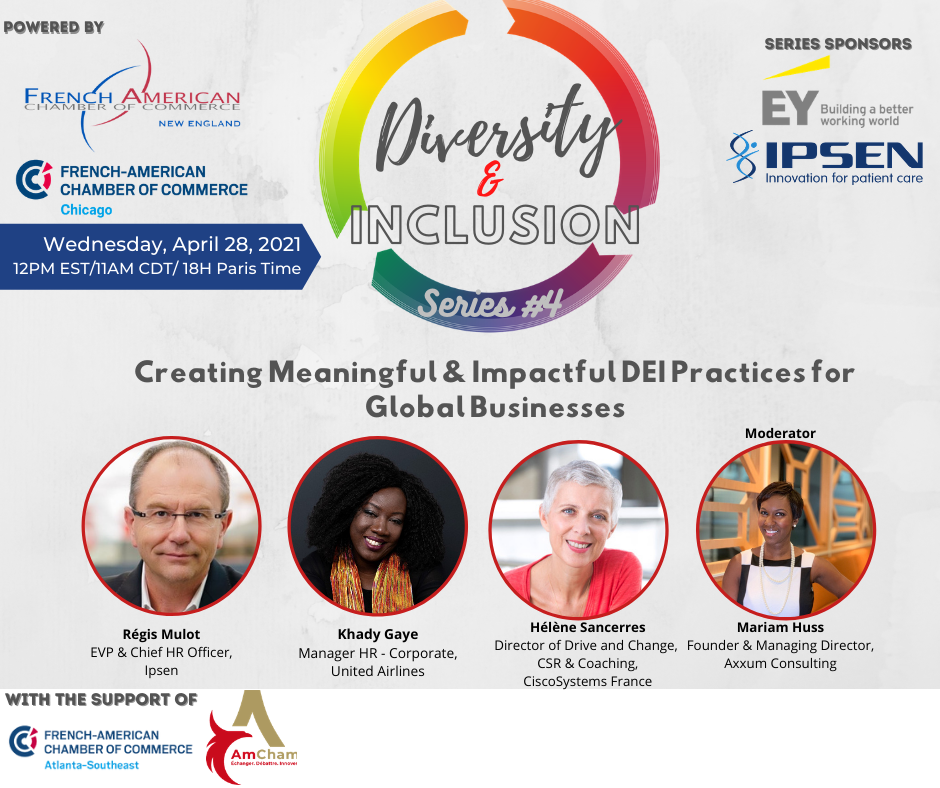 For the 4th edition of our DE&I Series, we have the pleasure to welcome Helene Sancerres, Director of Drive & Change, CSR & Coaching at CISCO (based in Paris), Khady Gaye, HR Manager Corporate at United Airlines (based in the U.S.) and Régis Mulot, Executive Vice President, Chief Human Resources Officer at IPSEN (based in France) who will address the important topic of diversity, equity and inclusion policies for global corporations and how this question is addressed on both side of the Atlantic.
Our panelists will discuss:
how diversity, equity, inclusion are addressed in global companies with a presence in France and in the U.S.
cultural differences that can impact how corporate policies are implemented in different countries
bringing cultural awareness to internal conversations about DEI
how to ensure lasting and impactful DEI practices
The panel discussion will be moderated by Mariam Huss, Founder & Managing Partner at Axxum Consulting (based in the U.S.).
This event is organized by the French-American Chambers of Commerce of Chicago and New England, in partnership with the AmCham in France and the FACC-Atlanta.
Thank you our Series Sponsors Ipsen and E&Y.
Meet Our Panelists
Director of Drive & Change, CSR & Coaching at CISCO
Hélène Sancerres a débuté sa carrière en 1985 en agences de communication (Publicis/Extension, Franklin Partners) avant de prendre en charge le département communication d'un cabinet de conseil en ressources humaines de 1989 à 1993. Elle rejoint ensuite Zenith Data Systems en tant que Directeur de la communication avant d'entrer en 1996 chez Cisco France pour créer la Direction de la Communication. Elle pilote pendant 14 ans les relations presse, les relations publiques, la publicité, la formation des partenaires et des clients, les événements, la communication interne et le développement de l'image citoyenne.
Membre du comité de direction de Cisco France, Hélène Sancerres prend en 2010 la Direction de la conduite du changement pour soutenir la transformation de l'entreprise et l'évolution des comportements qui en découle. Depuis 2014, elle anime et met en œuvre le programme ambitieux et unique signé avec le gouvernement français pour l'accélération de la transformation numérique du pays. Possédant une formation initiale d'orthophoniste et plusieurs certifications de coaching, Hélène Sancerres a la responsabilité d'un programme d'accompagnement managérial et intervient en tant que coach interne. Hélène Sancerres coordonne également les actions de Responsabilité Sociétale de Cisco en France. Elle est par ailleurs chargée d'enseignement dans le cadre du Master II de coaching à l'Université Assas Paris II.
Publication dans le Livre d'Or du Coaching – Eyrolles – 2013
Co-chair du comité RSE - AMCHAM
HR Manager Corporate at United Airlines
Khady is a global, multi-lingual HR leader with over 20+ years' experience. She has been working for multiple organizations, in a variety of sectors, at local and international levels. Her travels to Europe, the Middle East, Africa and more have enabled her to develop a strong cultural awareness.
At present, she is based in Chicago acting as Manager HR for the commercial division and involved in DEI related projects. In addition to her role, she is an active board member at the Illinois Diversity Council as Education Co-Chair. Passionate, I&D being part of her DNA, she gets her energy from people. She has been previously described as a natural relationship builder. Authentic storyteller, she also thrives by empowering people to accept and appreciate who they are or want to become.
Her mantra "Inclusion is the solution to exclusion".
Executive Vice President, Chief Human Resources Officer at IPSEN
Régis Mulot joined Ipsen in March 2018 as Executive Vice President, Chief Human Resources Officer to support, alongside his teams, Ipsen's 5700 employees in 40 countries, based in Paris.
Régis is particularly interested in matters related to supporting managers during transformation periods, talent development and employee engagement. He is also passionate about the development of Ipsen's corporate culture around the themes of purpose, learning, trust, collaboration and responsibility.
Régis has more than 30 years of multicultural HR experience, both at global and local levels. He joined Ipsen from Staples Inc (retail and e-commerce) where he was Chief Human Resources Officer, based in MA.
Prior to joining Staples (2009-18), Régis Mulot held HR management positions in other industries (apparel - Levi Strauss, telecom - Broadnet, IT - Gtech and postal - Chronopost/IPC). His various positions led him to live for more than 25 years in different European countries (Belgium, the Netherlands, Great Britain) and several years in the United States before returning to France to join Ipsen.
Regis holds a DESS Entreprises Publiques (Master in Public Administration) from Paris XI-Sud in partnership with Paris IX-Dauphine and Institut International d'Administration Publique (IIAP). He also holds a Maîtrise Droit Public (Bachelor of Law) from Paris II–Panthéon-Assas and is a Beta Gamma Sigma honoree from the Simmons College Chapter.
Our Moderator, Mariam Huss,
Founder & Managing Partner at Axxum Consulting
Mariam Huss is the Founder of Axxum Consulting, a Chicago-based management consulting firm that offers Human Capital, Operations and Strategy services. She has nearly 20 years of experience of professional services on global projects for Fortune 500 companies.
Prior to her own practice, she held senior positions at IBM, EY and KPMG. She holds an MBA from Université Laval (Canada), is certified PMP (Project Management Institute) and Prosci (Change Management).
Involved in the community, she seats on the Board of the French American Chamber of Commerce, the OD Network of Chicago, Women's Global Education Project and she was named Emerging Leader in 2020 from the Chicago Council of Global Affairs.