Come celebrate the end of Women's History Month! #ChooseToChallenge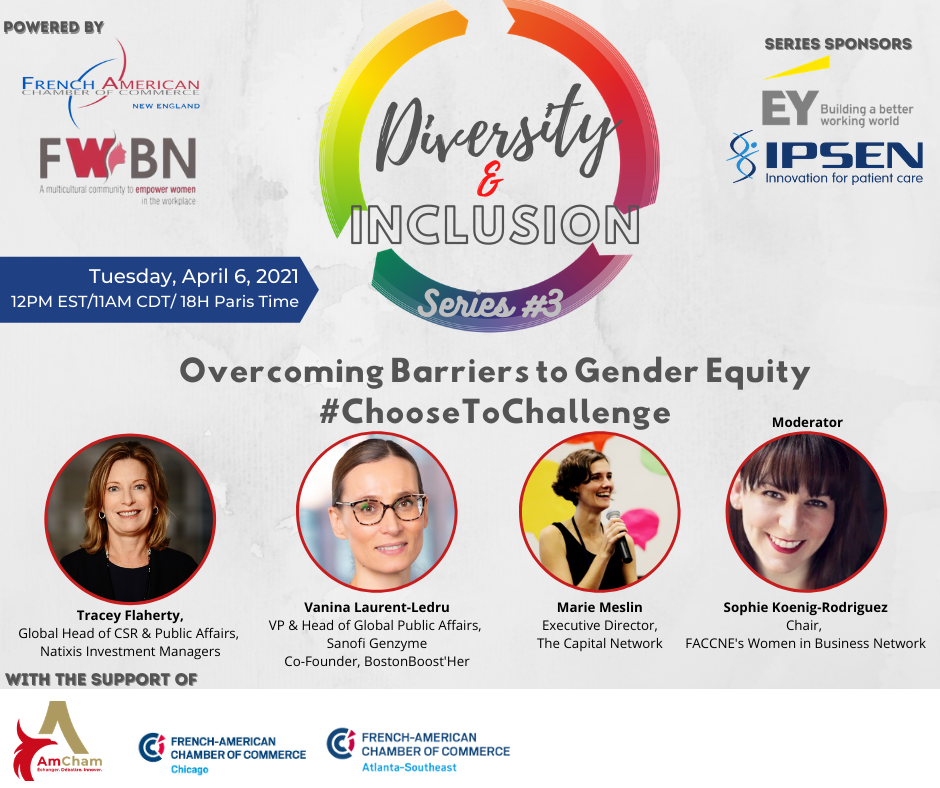 Join us on April 6th at 12pm EDT for the 3rd event of the Diversity, Equity & Inclusion Series.
For this Edition, we will be celebrating the end of Women's History Month with a discussion on Gender Equity, featuring:
This panel discussion will be moderated by Sophie Koenig-Rodriguez, Chair of FACCNE's Women in Business Network.
We encourage our network to use #ChooseToChallenge on social media in reference to this event.
This edition is organized by the French-American Chamber of Commerce of New England, with the support of the American Chamber of Commerce in France, as well as the French-American Chambers of Commerce Atlanta and Chicago.
Thank you to our Platinum Sponsors IPSEN and EY for supporting this DE&I Series. We know that diversity and inclusion are key priorities for Ipsen & EY. It is core to who they are and how they work.
Meet our Speakers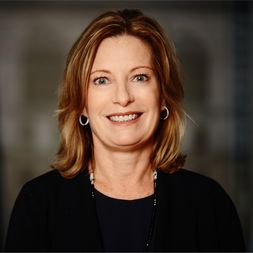 Tracey Flaherty, Senior Vice President, Global Head of CSR, Natixis Investment Managers
Tracey Flaherty is Senior Vice President, Global Head of Corporate Social Responsibility (CSR) and Public Affairs for Natixis Investment Managers. In her capacity as head of CSR, Ms. Flaherty is responsible for expanding efforts to raise standards for corporate social responsibility within the firm and across the wider financial services industry. The role is an expansion of Ms. Flaherty's position as global head of diversity and inclusion, in which she directs the firm's strategic diversity and inclusion efforts designed to create a work environment that promotes diversity in all its forms. As head of public affairs, she oversees advocacy efforts and the tracking of policy issues that affect the firm's overall business, as well as defining and coordinating corporate responses to new legislation.
Ms. Flaherty is Board Chair of the G7 Investor Leadership Network, a group comprised of Natixis Investment Managers and 13 other leading global asset managers and asset owners whose initiatives focus on climate disclosure, infrastructure, and diversity in investment management. She also participates in the oversight of periodic Natixis Investment Managers investor surveys to identify new issues and trends in consumer and advisor behavior, particularly policy issues and special challenges that impact retirement investors.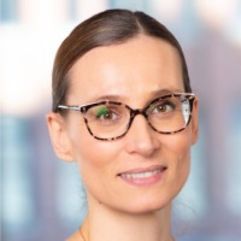 Vanina Laurent-Ledru, Head of Global Public Affairs, Sanofi Genzyme
Vanina is the Vice-President and Head of Global Public Affairs, Sanofi Genzyme since December 2019. Vanina is responsible for Sanofi's Public Affairs strategies for Neurology, Oncology, and Immunology, Rare Disease and Rare Blood Disorders. She is working closely with Sanofi Genzyme leadership and across Corporate Affairs to ensure patients have appropriate access to the medicines they need and to strengthen Sanofi's leadership in Specialty Care. She is based in Cambridge, US.
Vanina has developed a solid experience as a Public Affairs strategist and advocacy leader with a demonstrated track record in bringing innovation closer to patients. A lawyer by training, Vanina has devoted her career to create shared value for patients, caregivers, health systems and the healthcare industry. Before moving to the US in 2016, Vanina honed her skills in launch preparedness, corporate affairs, strategic communications, vaccine policy and corporate social responsibility at Sanofi Pasteur in France in a global role, Merck/MSD in Belgium covering Europe and Canada and Sanofi Pasteur MSD covering Europe. Vanina started her career with the law firm Cleary Gottlieb in Brussels.
Vanina had the privilege to help advance public health while working at the global vaccine alliance Gavi as Chief of Staff then in resource mobilization and through her board tenure at CSR Europe and the trade association Vaccines Europe. She currently serves as a trade advisor for the French government.
Marie Meslin, Executive Director, The Capital Network
Marie is the President and Executive Director for the Capital Network (TCN), a non-profit educating early stage founders on fundraising with education, mentorship and access to a network of investors. In 2016, Marie Founded TCN's Female Founders Fellowship Program to engage and support more female founders through TCN's resources, in an effort to help more women 'Own Their Raise'. To date it has supported 60+ female founders, (50% BIPOC) 43% who have then raised over $25 Million+. In 2020 TCN created the Investment & Inclusion Series in collaboration with the VC Inclusion Lab out of Brown University to look at ways of diversifying VC and Angel portfolios. Marie serves as a judge & mentor for several accelerators and community organizations.
Marie has previously worked with Non-profits focused on international women's rights and global citizenship. She also worked with innovation consultancies helping Fortune 500s and small non-profits alike solve key issues through a creative process. Originally from France & the UK, she spent some time in the Middle East before moving to the US where she became a 'New American' in 2019.
TWITTER: @marie_meslin
TWITTER: @TCNUpdate
The Boston Voyager Radio Entrepreneur
Our Moderator:
Sophie Koenig-Rodriguez Chair, FACCNE's Women in Business Network
Sophie Koenig-Rodriguez is a Franco-American Marketing & Communications professional with 25 years of experience in strategic and operational roles with various French and American entrepreneurs and corporations in technology, consulting, fashion and luxury goods.
In 2011, she founded TransAtlantique, a boutique consultancy to help small French companies and women entrepreneurs understand and adapt to US markets in order to optimize business development opportunities within their specific budgets and requirements. Since September 2005, she has contributed toward the economic development of the FACCNE as a volunteer and pro-bono consultant. She leads the Women in Business Network, FWBN, a multicultural non-profit community to empower women in the US workplace, which she created in 2014.
Sophie volunteers raising funds and awareness for Casa Myrna, Boston's largest provider of domestic violence awareness efforts and of shelter and comprehensive supportive services to survivors. She also leads the EDHEC Alumni network of New England. She earned an Executive Certificate in Business Strategy at MIT Sloan School of Management, a Master of International Business Administration at EDHEC Graduate School in Lille, France, a BS in Marketing at U. Mass Dartmouth, USA, and a DUT in Commerce and Trade at the University of Grenoble II, France.
A mother of two young girls, Sophie is committed to helping women pursue their dreams and achieve their potential.