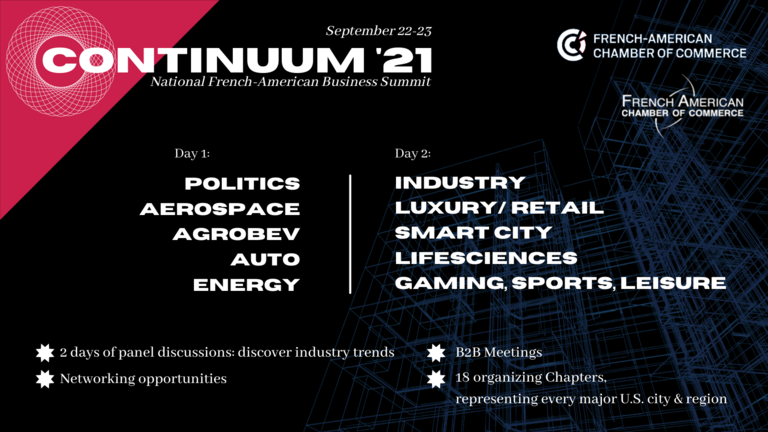 Continuum '21: The inaugural French-American Chamber of Commerce Business Summit
Luxury. Energy. Smart Cities. Lifesciences. Gaming&E-Sports. These are just a few of the prominent topics that we will be discussing during #Continuum21: The FACC National Hallmark Digital Forum featuring 10-panel discussions, 40+ premier speakers, and unlimited group and 1-1 networking opportunities.

On September 22 & 23, join us for a multiday forum with 18 National FACC Chapters and be part of sector-based conversations with the regional experts who know the market best. FACC-Atlanta is partnering with FACC-Rocky Mountains for a panel discussion on Gaming, Sport & Leisure.

Panel discussions will convene prominent thought leaders from French and American companies to discuss transatlantic relations and specific U.S. market opportunities by sector.

Our Gaming, Sport & Leisure panel (Thursday, Sept. 23 from 2:20 to 3:00 pm EDT) will be featuring experts in the industries:
- Todd Harris, CEO of Skillshot Media | Chair, Atlanta Esports Alliance | Partner, Ghost Gaming | Co-founder, Hi-Rez Studios
- Sasha Dietschi-Cooper, VP Business Development and Strategy Sales Guys Inc.
- David Ruffel, Attaché Culturel, Embassy of France in the United States, based in the Consulate General of France in Atlanta

Don't wait to book your ticket!

View speaker lineup and register today: https://bit.ly/Continuum21
Ticket prices will be set at $25 for FACC members (Membership status will be verified); $50 for non-FACC members (all access).