Grab your favorite hot drink and join us for an informal discussion!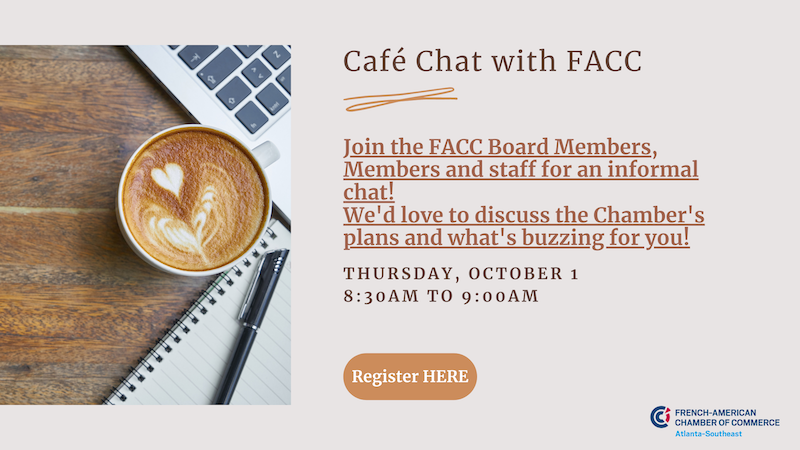 From your office or from the comfort of your couch, join us on
Thursday, October 1 at 8:30AM on zoom
to engage with FACC Board Members, Members and staff.
Don't miss this great opportunity to:
— Tell us more about yourself and your projects
— Network with other like-minded members
— Strengthen existing connections or create new ones
— Meet the FACC-Atlanta team and Board Members
— Learn more about what we do
— Give us feedback and share your ideas


This is also a great way to expand your network and visibility.
---
This event is free and open to members and non-members.
We have limited this event to 12 attendees, so do not wait to register!
!!!ONLY 1 SPOT LEFT!!!
---
Like many organizations, the FACC-Atlanta has been strongly impacted by this Covid-19 crisis. We are a non-profit 501 (c) 6, non eligible for the CARES Act, and we do not receive or depend on any support from any Government or governmental organization.

We only live from our memberships and our events.

The current lack of in-person events since the beginning of this pandemic has considerably reduced our revenues, increasing the importance of annual membership fees and sponsors.

There are several ways to show your support to the FACC and its mission.
Thank you for your support!
Without you, there would be no FACC-Atlanta!