Focus on Lemoine & Lefebvre, LLP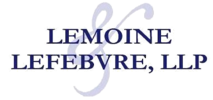 On the occasion of its 35th Anniversary, the FACC-Atlanta is willing to put its members in the spotlight! Each month, a dedicated newsletter will be sent to learn more about one of our members. Today, we invite you to discover
Dominique Lemoine and his lawfirm Lemoine & Lefebvre, LLP.
1 - How could you describe your law firm in a few words? (categories/specialties)
Our specialties are international business transactions, international litigation and arbitration, immigration and international tax.

2 - Which parts of your work do you prefer?
The variety. I like the fact that the issues are different every day.

3 - What does success look like in your position and how do you measure it?
Client satisfaction, but also the intellectual satisfaction provided by the work we do.

4 - What kind of challenges are you facing on a daily basis and long-term?
Never enough time!!

5 - Why did you chose Atlanta?
Best value. Atlanta has everything a great cosmopolitan city has to offer, for half the price of places like New York or Paris. The quality of the airport facilitates business travel.

6 - What is your motto in everyday life?
Tough times never last, but tough people do.

7 - What is your educational and professional background?
Master in French law Universite d'Orleans, Sciences Po Paris, Columbia University law school (LLM), University of Pennsylvania law school (Juris Doctor); admitted to practice in New York and Georgia. 7 years in a large New York City firms, and then the opening of our Atlanta practice in 1997.
Contact Information:
Dominique Lemoine
dlemoine@ll-uslaw.com / (770) 351-0099
1117 Perimeter Center West, Suite E308
Atlanta, GA 30338